Fellowship House - Certified Community Residence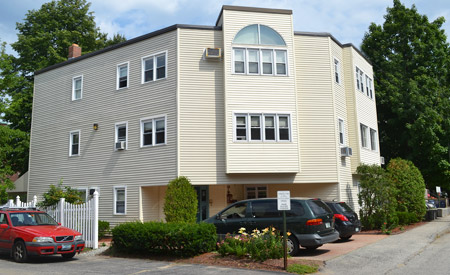 Fellowship House is a Housing and Urban Development (HUD) Demonstration 202/8 Project that opened in 1984. It is licensed and certified through the New Hampshire Department of Health and Human Services.
Sometimes called "the group home," it is home to 12 adults who thrive with around the clock support. In order to become a resident, each person undergoes an assessment to ensure goodness of fit, abilities, needs, and interest. Upon move-in, the individual establishes residential goals along with our staff and the individual's treatment team through the local community mental health center.
All residents have a private room, and share bathrooms, the kitchen, the dining area, and the living room. Residents are charged a Room and Board fee, which pays a portion of the residents' rent and allows our staff, with assistance and input from the residents, to purchase food for the home. Breakfast and lunch are prepared by residents with ingredients on hand. Dinners are family-style and prepared by the residents with staff assistance.
Fellowship House residents receive assistance in building skills for everyday living and in managing the symptoms of their illnesses. Doing so prevents relapses requiring a more restrictive setting for individuals living with mental illness. Residents are expected to adhere to routines prescribed to them by their physician, and staff assist the residents in maintaining consistent schedules. The residents are involved in making decisions about their household and participate in activities within the community. This allows for a more seamless transition to greater independence. Residents are responsible for the upkeep of their private room and the common areas, and actively work toward achieving their individual goals.
When a resident is ready to find more independent housing, Fellowship Housing staff members assist them in finding suitable housing, often in one of our own independent living residences. The departing resident may continue to require some staff support during the transition, at which time he or she would transfer to our Outreach Services. In addition, program graduates are always welcomed back to Fellowship House for meals, conversation, special occasions, and group activities.
---
Fellowship House - 11 Chesley St.
Opened: June 1984
Handicap Accessible Rooms: 1
Total Bedrooms: 12
Capacity: 12